Membres shippeurs :
1.TrueLoveAlways
2.angel_15
3.Nick_Ship_Addict
4.Nath
5.Lily7807
6.MissGrey's
7. Esther
Raisons pourquoi on les shippes?
Because hes had a crush on her for a long time.
Because she helped him rescue his sister from Chuck.
Because he cares about her, not her past
Because they make handholding an art form.
Because according to the pilot, she's the love of his life.
Because he remembers the first time she talked to him… (In 9th grade!)
Because we love the way he looks at her.
Because they couldn't stop touching each other.
Because he waited his whole life for a date with her
Because Penn thinks that Dan would win Serena's heart
Because he is the boy that she likes.
Because yes, he's still there.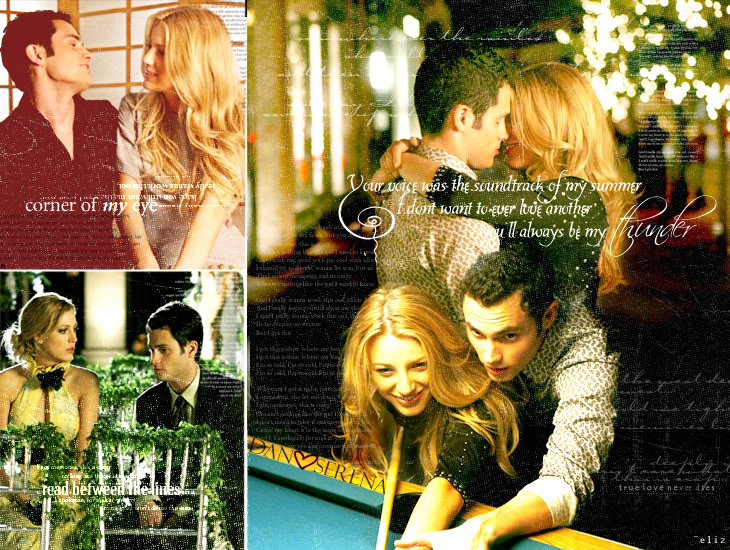 Songs that Reminds us of Them:
Butch Walker - Mixtape
Aqualung - Strange and Beautiful (I'll Put a Spell on You)
Jack's Mannequin - Dark Blue
Until June- You Do
Lifehouse- First Time
Angels & Airwaves- The Gift
Elvis- Burning Love
Vega4- Traffic Jam
Ingrid Michaelson- The Way I Am
Matt Wertz - Naturally
Plain White T's - Hey There Delilah
Angus and Julia Stone - Just a Boy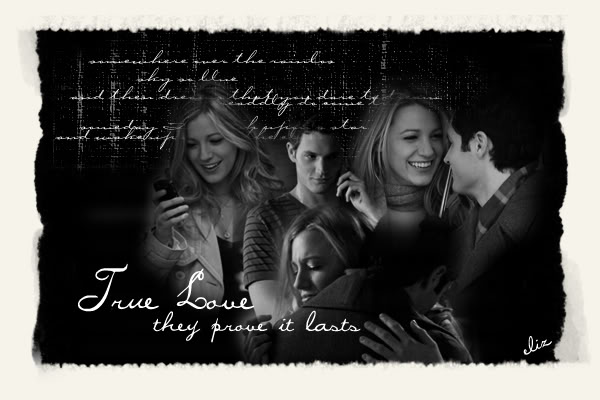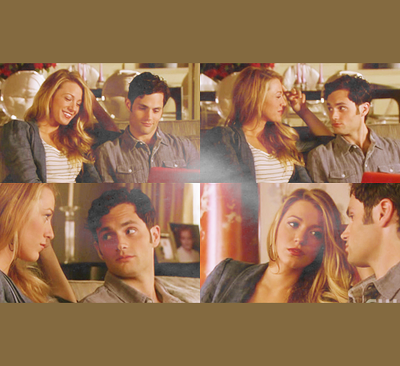 True love is never easy to find.
It requires patience, endurance and faith.
But when you find the one for you, you should never let it go.
He found her in a ninth-grade birthday party.
She found him when she was lost.
Since then, they never let each other go.
No matter what happens, and no matter what stands in the way,
they would always be Stolen Hearts. Forever.

There are other love interests.
I mean, it's one of those relationships that, in this genre,
you're always going to get that push and pull.
Will they or won't they? For Dan, I know he's not
having so much on the love front. He's enriching his life in
order to enrich his writing, which sounds
backwards—but that's the way he wants to go about it.
He dabbles in the dark side this season
with Chuck Bass (played by Ed Westwick) as much as
he might hate it.
There's always the anchor—his relationship with Serena.
It's always going to be something that's present with him,
because she was his first love.

~ Penn Badgley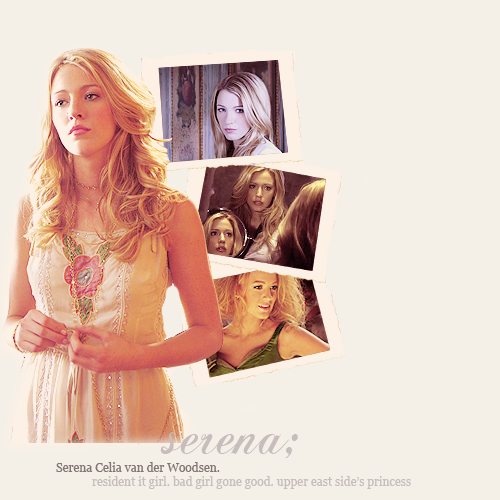 There are new love interests for Serena.
The interesting thing about this is that Serena was a bad girl.
You met her returning and trying to be good—then, she met Dan.
She avoids finding out who she is as a person and who she's going
to become, because she has this other person.
She still needs a bit of the power that she had before.
She was able to fall back into the shadows when she was with Dan.
She does rise to power this season, and she's finding that balance.
She meets an artist who's in his 20s.
He's a free spirit, and he tries to break her out of her shell.
But, as much as he's helping Serena as a person,
there's still that constant tug with Dan.

~ Blake Lively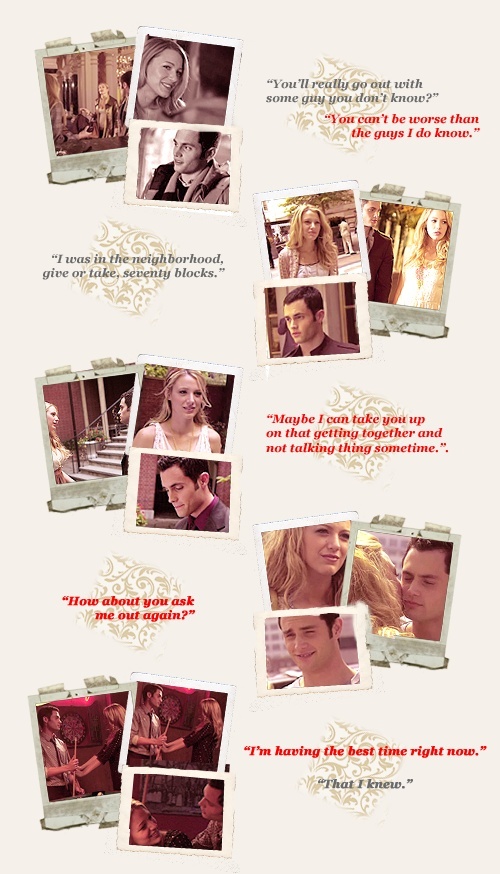 Dan and Serena are key to Gossip Girl because
this is essentially a show that breaks down
the glamour mystique of the Upper East Side.
The story is mostly told through the perspective
of its outsiders-Dan and Jenny.
Dan more than his sister is the main perspective
from which the show is told.
He centers the story so that we can
start to see that Blair and Serena (as well as their cohorts)
are not unlike the rest of us.
The show needs a character that is relatable and Dan
is just that guy.
This is why his love story is key.
He helps us to see Serena and by extension
Blair for who they really are: two young girls with self-esteem issues.
Dan and Serena also provide a prism of hope in
a story that is pretty depressing by reminding us that
if you believe strongly in love than it can
truly overcome any and all obstacles.
The audience is asked to join Dan and Serena on their
journey of self-discovery and the beauty of Love.
Without DS, Gossip Girl would in fact be without a heart.

~ Shu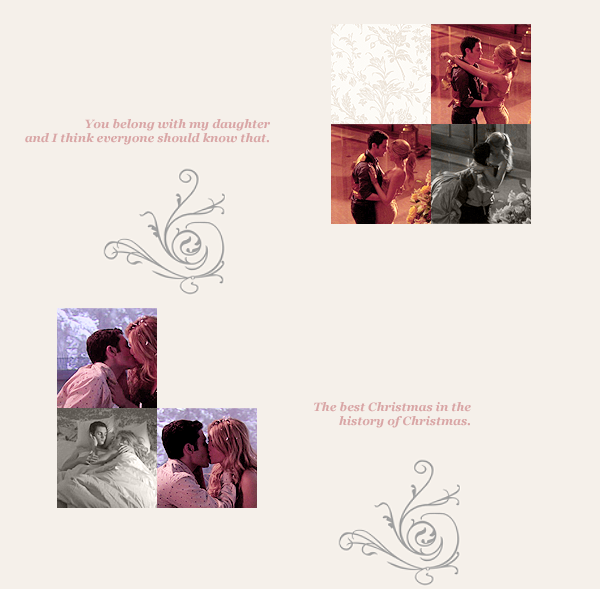 What is Gossip Girl?
Basically it is a show that centers around the lives
of rich people, and rich people get
what they want because they can buy everything.
But certainly, there is this one thing that money
can never ever buy, and that is love.
That is where Dan and Serena come in.
They show that despite their difference in social status,
they can still fight for their love,
and be together, touching hearts everywhere.
Certainly, without DS, GG wouldn't have
the one important thing in every show, the lesson.

~ Lillie
Dan and Serena demonstrate the meaning of true love,
they communicate, and trust each other a great deal.
They dont care what other people think of them.
They have passion, and love for each other.
They made love based on trust and the love
they had for each other.
They cant live without each other,
there will always be a soft spot for each other
in their hearts. They are the only couple on GG that show
the real meaning of true love and show what
a real relationship should be all about!
~ Kristy